No Raptor play made the list. The only reason I would be upset about this, is because of 2 derozan plays which have a right (compared to the other plays) to make it in the top 10!
1.
Not only is the Buzzer Beater the EXACT same situation as JR Smiths buzzer beater that went #4, but Derozan has 2 defenders on him and shoots from farther out (at least a step)!! How did JR get to number 4 and Derozan not even have his play in the top 10?
Jr Smiths play:
2.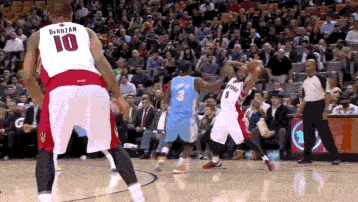 Now this one pisses me off. Derozans dunk I believe is 2nd on the Dunk ladder, ahead of 3 other plays found in the top 10! AND YET, those 3 plays appear on the top 10, and Derozan with the best unassisted poster of the year gets shafted.
I hate american media.. Thoughts?