Nobody is starting the thread, I'll give it another go...
TORONTO RAPTORS
(26-23) vs.
Los Angeles Clippers
(34-18)
Game Information:
10:30 PM Start
TV: TSN
RADIO: TSN 1050
Raptors are 2-2 going into their final game of the road trip and it was like two weeks ago since Terrence BOSS scored 51 against these same opponents. Raptors lost that game 126-118, but were only in it because of Ross. If you recall though, DeMar left the game due to a sprained ankle, 2Pat broke his nose and didn't return and Lowry collided knees but seems to be fine. Totally different circumstances, and that will not allow T-Ross to go off again.
Raptors are 14-13 on the road (and 6-6 against the west)
Clippers are 20-4 at home
Things that need to happen:
BIGS (Especially Amir's Defence)-
I don't know WTF happened to Amir. Once the heart and soul of our team- he has magically disappeared. Last time, Amir let Blake Griffin go off. Can't let that happen. The bigs have to establish a presence and try to get Jordan and Griffin into foul trouble.
Transition D-
This is LOB city. They love to go out and run. Can not allow a team to do that when you are on the road.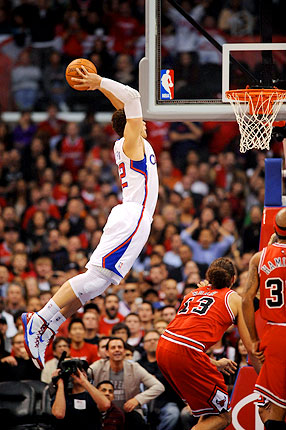 Good Start-
Raptors can not keep trying to make comebacks, they need a good start and defend the lead.
Efficient DeMar-
The Clipppers aren't bad at defence and a lackluster/ inefficient game from DeRozan won't cut it. T-Boss picked up the the slack this game, All- Star needs to go to work...
Raptors after a 5 game road trip will probably end sluggishly, but I wouldn't be surprised if they bounced back from the SAC game. I think some kind of comeback will be needed, but in the end a loss: 105-99 LAC =( (Not feeling a W...)