Once again...don't let it be lost on us that we lost a game that we should have won on a buzzer beating half court bankshot heave...and no one really cared.

It's nice to be in that part of the season
As for the game today....if you really squint...maybe you can find some meaning in it. The folks from Charlotte probably won't care too much because they're busy watching Duke in the Final Four....wait..what's that you say? Right. Well, maybe they'll be focused on North Carolina's run. Them too? All they have left is the Hornets? I guess they have something to play for. 2 1/2 out of a playoff spot but 2 of their next three games after us are against the 7-8 seed group And the other is against Cleveland. Sounds like we will be all hands on deck tonight. Don't really see a reason to play anyone heavy minutes tonight (depending on how much we care about staying 1 1/2 games ahead of the Warriors.). OG is probable so hopefully he can get back in rhythm tonight. Any other reasons to watch the game? Well, it may be our last chance to see Biyombo on the court. His guaranteed contract is over this year and there's only an option for next year. A $17 million dollar player option! Think he might turn that down?......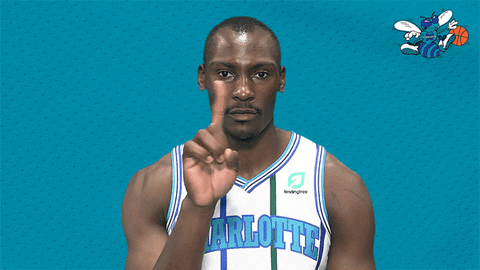 Oh Charlotte.........
Anyways...if I am going to start this thread talking about game changing buzzer beating half court shots, we might has well end it with one we liked a bit more


And, in honour of that, after picking Danny G and Siakim for standout games over the last two respectively, I'll go with Kyle for this one.Not such a bold pick to choose our five time all star but he has been playing decreased minutes and deferring quite a bit. Maybe he'll play his part in the Year of the Free Agent K's and remind them who's really the best K point guard.