The Raps have concluded their most successful regular season in years, and while they prepare to battle the Nets in the playoffs, I thought it is a good time to reflect on the season and determine the Best Raps Game of the Year.
Now, this isn't the game which has the best execution, or the crispest rotations, but simply, what game left you feeling of "whoa, that was one hell of a game."

Mind Blown
Anyways, so here is the short list imo. Feel free to add others or vote for one of these.
#1 - March 21 - 2OT 119-118 Loss to OKC
This was a hell of a game. We saw 4 Raps score 20+ points (DD 33, Amir 25, Lowry 25 and Vasquez 21), JV grabbed a game high 13 rebounds while playing a career high 45:24 minutes. We played a tight 8 man rotation with Patterson out due to injury.
A double OT game is guaranteed to be exciting and Raps fans court-side got a treat.
Unfortunately, Durant dropped 51 points including the game winning trey with Amir playing tight D.
#2 - Jan 25 - 126-118 Loss to LA Clippers
This is the game that Ross went for 51 points, shooting 10 of 17 from 3P range. Despite the loss and all, this game felt special watching it as Ross chased (and ultimately tied) VC's franchise mark of 51 points in a game.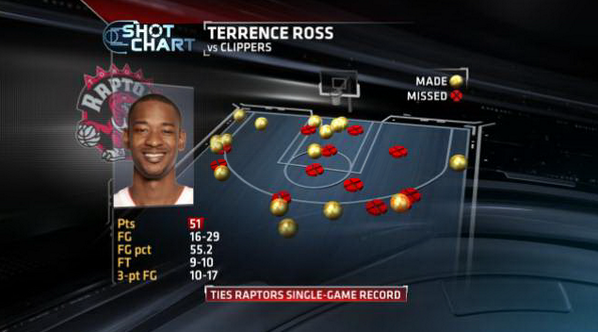 #3 - Jan 27 - 104-103 W in Brooklyn
Two days later, this one was a playoff game in January. Lowry went off for 31 and JV produced 20 points and 13 rebounds (4th highest point total on the season and highest at the time). DD was out and the Raps were on the road against a Nets team that entered on a 5 game winning streak and had won 10 of their last 11 games.
Raps down 2, with 12 seconds left and the Nets in-bounding the ball, the Raps pulled off this: #4 - Feb 27 - 3OT 134-129 Loss to Washington
Another (tough) loss, another multi-OT thriller in Toronto. Demar scored 34 points, Lowry had a double-double that was almost a triple-double (18 points-10 assists-9 reb). Vasquez dropped 26 off the pine including 4 of 9 from deep. JV had 10 rebounds in just 29 minutes (and led to many forum discussions about this playing time and Casey's ability to manage rotations).
This one had multiple moments that stand out.
The good.

The bad.
And the ugly
Of these nominees, I vote for the Brooklyn game. What say you RR Nation?