2019 -- WE THE CHAMPS!!!!
2020 --
Well... hindsight's 2020 cause Kawhi, you ain't never winning shit again, bruh. Just ask these hall of fame cousins how they departures turned out:
I love to see families together.
Nice careers and all but we prefer our chips with the dip.
Y'all had yo chance...
#RAPS4LIFE.
p.s. Thanks Kawhi. & Thanks Danny.
The city of Toronto and Raptors fans everywhere will be forever in your debt.

Now...
TRAINING CAMP!!!!!
It's just around the corner!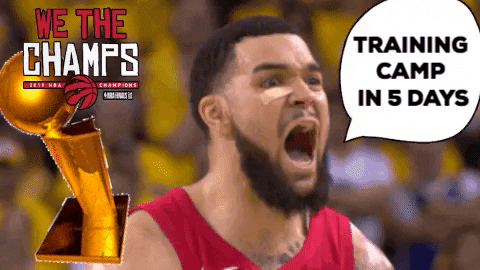 "Head coach Nick Nurse and his team will hold training camp Sept. 29 – Oct. 3 at Laval University in Quebec City. This is the first time the Raptors have held their annual training camp in the province of Quebec. All practice sessions are closed to the public. A specific schedule with times and media availability will be released at a later date."
As for preseason...
It's a 4 game pre-season schedule —

Two of our games will be held in Tokyo. ... Dope.
(We'll get our first taste of The Beard + Russ. Should be compelling stuff.)

One game will be held on the reigning NBA Champion's home court. Nice.
(Hosting T-Rex's favourite NBA squad, no less. They look good this year T.

)

And one game will be held in .... Man, FUCK BROOKLYN.
(Keep that foot elevated K.D.)

Here's a look at our preseason schedule below:
(note: that last game has been moved from Nassau Coliseum to Barclay's stadium, but who cares fuck brooklyn.)
Discuss.