Its's Game #
If I do my math right (and the last thread brings that into doubt),
we've played 54 games and we have 14 losses.
That means we have 40 wins...before we got to 20 losses!
Heck..we've even gotten 40 before 15 losses.
By Phil's logic, we've got a chance!
I think most people have head the Phil Jackson Theory before,
but it is tough to find the actual source of it.
Plenty of sources referencing it but not the one where he actually says it.
Maybe I just didn't work Google hard enough.
But I
worked
it hard enough to find this.
Raptors want Phil Jackson as prez
Apr 29, 2013
Marc Stein

Ramona Shelburne
"The Toronto Raptors, emboldened by the news that the Sacramento Kingsapparently won't be moving to Seattle, have ramped up their pursuit of Phil Jackson to be their new team president, according to sources close to the situation.

Sources told ESPN.com that the Raptors -- now being run by former Los Angeles-based sports mogul Tim Leiweke -- regarded the Seattle group that was trying to buy the Kings as the biggest threat to preventing Jackson from seriously considering their pitch."
I mean, I kind of remember that storyline. But still. Yikes.
But I think that's kind of where we are.
There was everything before the Championship and now it is the time of the Championship Raptors.
In the words of the esteemed Ryan Saunders, "We are 1-0"
This has been such an unbelievable run.
I know the answer to the question is obviously "a" if I ask
would you prefer a) we ran it back with Kawhi or b) we see where this group goes?
But it's not as clear cut as it was in September.
I joked at the end of last year that as amazing as everything was, it was also pretty stressful .
I'd be ok with a lap year.
But this has been amazing
I don't even know where I would find it in the Republic database but probably about 4000 posts ago,
I offered some advice as we headed into our first round playoff matchup in 2014.
It was something about being sure to enjoy this playoff run. It was our first time in a while.
Jurassic Park has just been born. Enjoy this because it will never be this feeling again.
Soon we will just be good and we will be used to this. Savour this.
Well, if I could talk to my 2014 self, I would say just wait for 2020. It's that good again.
And wouldn't you know it. Who do we have to face to keep the good times rolling?
The Nets
We saw them not too long ago.
You remember them
But I think as we head into the allstar break with a chance to brighten our mark on Raptor immortality,
let's appreciate the guys that got us here.
And a few more who will undoubtably have their moments this year
(Including Stanley Johnson who scored a season high 6 points in garbage time on Christmas to at least bring a little joy to the day)
We may not be number one on the charts but we're number one in your heart.
As for this historic streak, I didn't pick up the thread lead because I saw some easy games coming.
The Raps just lost to the Spurs but worse than that, I gave Scraptor a jab at the late thread start.
He had unfortunately had some bad news of his own and that was why he was late for the thread.
I just wanted to pick up the torch as soon as it was down.
This has been an unbelievable run and everyone here has cracked me up with assigning random credit to me.
When it does come to an end (on game 82 when the Raps have their playoff spot clinched and they rest their starters, the bench and the third stringers),
I nominate Scraptor to be the next one up.
As always, because it's Brooklyn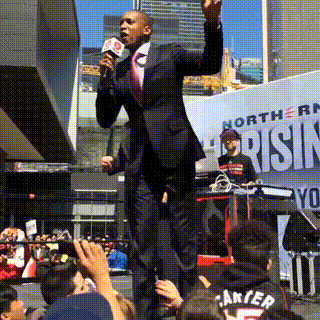 Go Raps