I know I've been around for a while.
But I still think I'm one of the more hopelessly optimistic people here.
But last night was the end.
Yes, there are a bunch of caveats but after tonight there is only one more game on the eve of the trade deadline.
In the words of Red..
In what should be an epic match up tonight,
we see the saddest fanbase up against, possibly, a sadder team
vs
I don't figure that one game against the Rockets in the middle of the season amounts to much in the grand scheme of things.
But the optics of being the team to "break" Houston's losing streak would be pretty ugly.
We have to travel across the country after a dispiriting loss.
They will be hungry after blowing a game in overtime last night.
The tea leaves are sketchy.
So let's check in on how our Raptors are doing..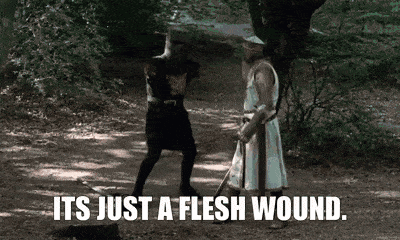 Right.
Well, what can we do to help them?
Just give it everything we have.
Because, with all credit to the valiant posters who stepped up,
have we ever seen this in the Republic before?
We haven't been pulling our weight.
So here's a place to start.
Show up tonight if you can.
It could be the last game for a long standing Raptor wearing red..or white...or gold...or blue.
It could be the last night of the GROAT.
As always,
Go Raps.