Boucher -> $6.5 million
Bagley -> $8.9 million
His suckage isn't based on him being on the kings its based on him being bad.
Again on the defensive numbers he ranked almost the worst out of all of these people or close to the worst..... and on the offfensive numbers he sucked too. His effective field goal percentage is another good example based on the comparison tool you popped up. Chris is better by several percentage points.
I am just goingg to focus on per 36 numbers to be as fair as I can. For the record boucher put up better numbers even though bagley averaged 25 minutes a night vs chris' 16 minutes a night.
Chris is better at blocking shots. Blocks 3 times the amount or pretty close 1.1 vs 2.9. He is half as turnover prone. Remember our new system will require very very very high IQ players on both ends of the floor.
Bagley sucks at freethrows too... shoots 66.3% vs Chris shooting 79%.
Look our player development is good .. I don't think its super easy to fix all of that. That is a lot to gamble on for a position that we saw is important. Only thing he does well is rebound well. I would much rather get JV and I do not think he would fit the current iteration of the team either.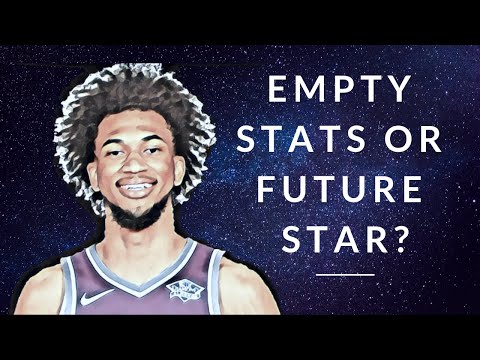 This video is from his rookie year. It shows most of his potential being on the offensive end yet at the same time highlights big issues that would continue on this team. He has bad vision meaning he is either an offensive black hole and can only think score which would be fine I suppose if he was super great on offense but my above post demonstrated he has a bad shooter from outside midrange and inside he can't finish.
The video if you don't want to watch it highlights how he is bad at transition because he misses easy passes. That would be one thing if he was still a rookie although concerning... still it is things that you could hopefully work out.
When you are picking top 4 in the draft you want to pick someone who at the very bare minimum has a high basketball IQ and understanding of the game. That will make them very serviceable. Regardless of position and other skills.
Bagley was taken #2. Again look at our most recent draft as a good example. Don't even need to look at Barnes. Everyone in the top 4-5 picks is at least good at their understanding of the floor. I truly believe it is hard to increase one's basketball IQ. You have to start at a base line and you can improve and get better but only to a threshold level.
Barnes is a perfect example of what high BBBIQ in a rookie does where you start seeing him read the game at a different level making him look like a vet. Although he himself makes rookie mistakes. But even then he learns from it quickly within a game.
Bagley doesn't have this. We need quick decision makers in transition, and decent and willing passers. We have room for one offensive ... GTJ. That is all.