Is he talking about Covid?
Or.....hear me out..
Is he talking about the glory days way back in late October?
That was the last time your Raptors were this sizzlin'
Yes, after a team meeting inducing blitz of the Kings,
the Raps have now won four of the last five.
I would not have guessed.
That must have been what Freddie was talking about.
But probably not.
Yes, that long shadow of Covid is making itself known again.
Aside from the usual gong show of Kyrie, the Nets also have the erstwhile imagined Raptor Paul Milsap in protocol.
We come in still missing Precious with the same.
Whatever happens tonight, the next game is on hold with the in precautions Bulls
There are rumblings about going back to empty stadiums
So, the message isn't necessarily doom in gloom.
It's just that we should appreciate every game we get these days.
Even if it's a back to back against the Easter Conference leading Brooklyn Nets
Because, KD already shot his load in his last game, right?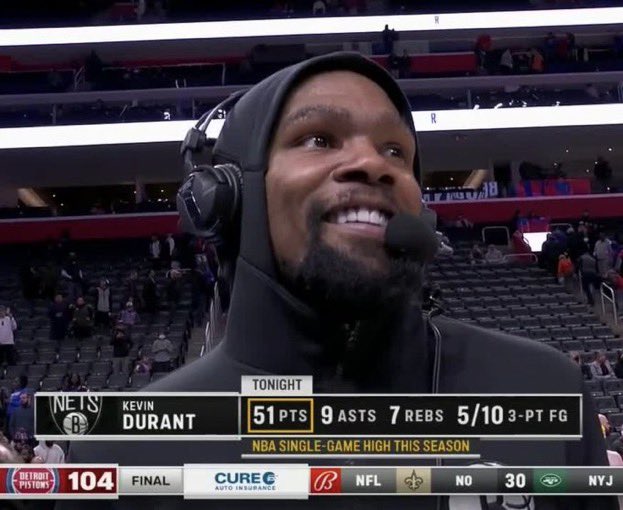 He wouldn't have any reason to want to show up us Raps, right?
EDIT #2 (chronologically)
***A(NOTHER) UPDATE***
Where have I heard that before?

Those Nets are feeling fine about themselves these days, having won 9 of their last 12
And they're not exactly at full strength.
To put it in context, for their last game, two fifths of their starting five were James Johnson and Alan Bembry
Welcome back guys. Looking forward to the montage
EDIT
***AN UPDATE***
Hold the Montage.
I would have liked to have seen a fair fight with both teams at full strength but that will have to wait for another day.
All I can say is that I hope the Raps put it a bit more of an effort on this back to back than this poster did.
Mailing it in a bit but hey,
Fred only played 26 minutes last night.
I watched all 48.
Speaking of appreciating things and of Fred....
Let's appreciate Fred.
And speaking of Brooklyn and of people missing the game because of Covid...
Go Raps