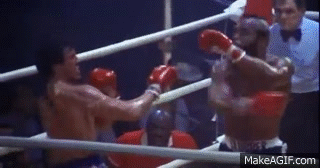 'Nuff said
Looking forward to round 4.
We must break them.
So.........quite a game for Gary.
In the spirit of the newest craze,
I think if the answer was Gary Trent Jr,
the guess that would get you all the right letters would be
The Eye of the Tiger.
(no fact checking please)
Fun game that I did not seem coming after falling behind to the *rested* Heat.
But back to GTJ.
Remember that trade?
I'd say the reaction had fans and not fans but probably graded out as lukewarm at the time.
Masai and Bobby taking a flyer while getting rid of someone they probably wouldn't resign.
Sure..
I see you Masai.
You didn't just take a flyer.
You were building the UberRaptor
A little bit of Kawhi
A dash of Freddy's pesky defense
He's got OG's silent assassin vibe
And you know he does art
Throw in some of DeMar's scoring prowess.
This is what you get
You'll notice that this is only the front view.
The backside is not shown because it's incomplete.
He needs to work a bit more on taking charges first.
(Get well soon Lowrys)
One thing you can see from the above tweets is that Gary just tied DeMar's record for 5 straight games of 30+.
(as an aside, is it more amazing that he has 5 straight games of 30+ or that he has 5 straight games of
31-33 pts...no more, no less? weird)
So, in the next game he will have the chance to break Demar's record.
And of course...
It will be against DeRozan and his Chicago Bulls
You can't write this stuff.
More, importantly,
Can we just take care of the Bulls?
This is getting silly.
Here's where the amazing stories begin.
We haven't beaten them in exactly 2 years (from today)
That game marked an 11 game winning streak
There was another time where we just couldn't beat the Bulls.
I think one of my first game threads was for the game where we finally did.
March 21 2017.
That's when we stopped an 11 game losing streak to them
We won in overtime, finally beating Jimmy Butler.
And in that OT game, Butler had 37 and 10 (sound familiar?)
And, of course, our leading scorer was
It's time to put an end to this streak.
Let's remind another top Eastern team about the new look Raptors.
Come out strong.
Most importantly,
let's get together for a win.
Go Raps