I was looking around at something else when I stumbled upon this article from last year on Grantland a few weeks after Rudy Gay trade.
Toronto has scored 105.8 points per 100 possessions since dealing Gay, nearly five points better than it managed with a Rudy-centric offense.2
Toronto is flinging the ball from side to side, one pick-and-roll bleeding into the next on the opposite wing, bending opposing defenses until an opening emerges.
The Raptors are
passing the ball 30 more times per game since the trade, per SportVU data provided to Grantland, and shooting about three more 3-pointers
— an intended benefit of replacing Gay in the starting lineup with Terrence Ross. "
The ball is just constantly moving," DeRozan says. "We don't care who scores, or who shoots the ball. Masai [Ujiri, the team's GM] made the best decision for us to win.
You hate to see a close friend go, but he made a good decision. It's paying off now."
Dwane Casey, the Raps head coach, chuckles at the idea that Toronto has dramatically changed its offense since the Gay trade. "All the same sets," he says, smiling, though the equation has tilted a bit more toward the pick-and-roll.
3 That has been a boon for Lowry, enjoying his best sustained stretch since his peak in Houston, and for all of Toronto's big men — especially Amir Johnson and Jonas Valanciunas.
Johnson has long been a dynamic pick-and-roll finisher, and though Valanciunas is still in the early stages of learning to time his cuts to the rim, he's gotten better at ducking for little post-ups below Lowry/Johnson pick-and-rolls: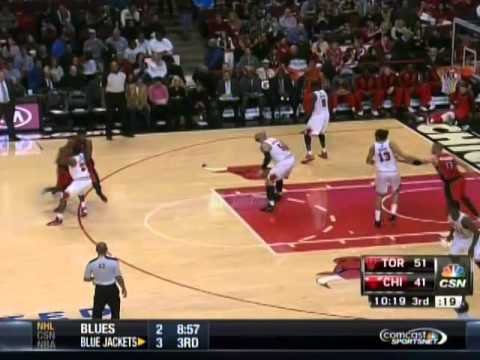 "The ball is moving," Casey tells Grantland. "Guys are playing together. Everyone is buying in. No disrespect to Rudy, but he's a different type of player."
Like what happened? Seriously?
Did Casey have a lobotomy?
Was he hypnotized by opposing coaches?
Has he been led astray by front office?
Casey meant to disrespect to Rudy but he then proceeded to change DeRozan, Ross, Lowry, Vasquez, and Williams in to Rudy clones.
I don't know if the change in offensive approach or the decline in defense is the most frustrating part of the last year.
For all this talk of continuity and building a program, how the hell can you use that as an excuse for keeping Casey when he says:
"Even thought you're winning, to me, my one area, what I didn't do a good job of, was establishing an offensive style," Casey admitted. "Now, that sounds crazy, (because) we were in the top 10 in offensive efficiency. But establishing a style of play offensively that will help our defence.
That is, as a staff, something we'll go to the drawing board and make sure we establish tempo, a pace, a shot selection that helps our defence.
"I thought a lot of our defensive woes were connected directly to our shot selection. Our quick shots.
Make or miss, you've got to establish a style of play that will help get you back on defence, get your jerseys back where you're 5-on-5 more so than in transition or coming back frustrated because you didn't touch the ball. There's a lot of things that go into that."
http://www.raptorsrepublic.com/2015/...sy-in-a-hurry/
So 4 years in and we need to go back to the drawing board?
Ugh.
As I said, initially, WTF happened?