The legacy league was created to pit teams drafted by fellow RR members against each other and allow the general RR populous to vote on who would win this winner take all, single elimination game if all players were at their peak performance.
Each team drafted an 8 man roster. Each team provided a gameplan justification as to why they believe they should get your vote. Each team is allowed 1 post for "in game adjustments." The role of RR community is simple, vote for who you believe should win. Post justification if you want (encouraged) and weigh the pros and cons for all to see, but ultimately, your vote decides who will win this tournament of legends.
SEMI-FINALS
DogeLover Lineup
PG: Gary Payton: DPOY/All-NBA/All-Defense
SG: Michael Jordan: DPOY/All-NBA/All-Defense/MVP/GOAT
SF: John Havlicek: All-NBA/All-Defense
PF: Rashard Lewis (PF): All-Star/At his peak he shot over 40% from 3 on 6 att/g
C: Wes Unseld: All-NBA/MVP
6Man: Brandon Roy (wing): All-NBA (2nd)
7Man: Blake Griffin: All-NBA (2nd)
8Man: Jack Sikma (C): All-Defensive (2nd)/One of 20 players to ever average 19pt/g, 12rb/g, 3 ast/g, 1 stl/g and 1 blk/g in a season. (showing his complete all around game)
e_wheazy Starting Lineup:
PG: John Stockton - All time assists and steals leader, shot 45% from 3, career 207.7 win shares
SG: Reggie Miller - retired with most 3PM all time, career 39.5% from 3, all time NBA leader in 4 point plays, scored 8 points in 8.9 seconds, extremely clutch, could get hot and take over a game in seconds (literally) - AS TALL WES UNSELD
SF: Kawhi Leonard - reigning DPOY, NBA champion, NBA finals MVP for his amazing lockdown defense on the game's best player. - TALLER THAN WES UNSELD
PF: Karl Malone - 2 time MVP (once in Jordan Era) 11 time All-NBA 1st team, career 234.6 win shares, 96 Drtg - TALLER THAN WES UNSELD
C: Dwight Howard - 8 time all star, 5 time All NBA first team, 3 time consecutive DPOY, 5 time NBA rebounds leader and 2 time consecutive blocks leader - TALLER THAN WES UNSELD
Bn: Derrick Rose - NBA MVP while Lebron was in the league, youngest MVP in league history
Bn: James Worthy - NBA Finals MVP, 3x NBA champ, clutchest of clutch performers, great defender, 37.5% from 3 - TALLER THAN WES UNSELD
Bn: Bob Lanier - 8 time NBA all star, 63% FG playoff shooting, 88 (yeah, you read that right) DRTG season, 3 blks, 15 rebounds/pg seasons, retired with career 20PPG and 10RPG averages - TALLER THAN WES UNSELD
DogeLover Game Plan
: Offensively, we plan on playing similarly to how we have up until this point, get out in transition as much as possible and let our guards make plays in the half court. Admittedly, Payton and MJ have harder match ups than in previous games, but they still will be able to create. To help give them more room to operate, our bigs will set more screens off ball and on ball to free up MJ and Payton. Our bigs are all capable of making plays as well, if they get the ball, which will be useful in the PnR and PnP. Havlicek will play a pretty big role by making good cuts when MJ and Payton draw a lot of pressure. Still though, MJ will be able to score when he wants to especially since Unseld will get every offensive rebound if Howard tries to help protect the rim Defensively we have our work cut out for us, but we are up for the task. Our starting perimeter defenders are all some of the greatest perimeter defenders of all time so we will rotate them around so no one of them gets too tired, while Stockton must deal with constant, unrelenting pressure. Our defenders will stay on their shooters, to neutralize the three point shot, so we only have to worry about dealing with that pick and roll. This will be difficult but with good perimeter and big defense we should be able to slow it down enough.
e_wheazy Gameplan
DEFENCE:
Matchups
All time steals leader Stockton on Payton
6'7" Reggie on 6'4"Havlicek
Lockdown Kawhi on MJ
6'9, 260 lb Malone on 6'7 245lb Unseld
6'11 275lbs Dwight on 6'10 256lbs Griffin
Worthy on pretty much anyone
In order to contain MJ, which will be key for us in winning this game, you need someone who has length, speed, lateral quickness, high BBIQ, guts, can make good decisions quickly, and has shown that he can cause nightmares for the game's best players - sound familiar?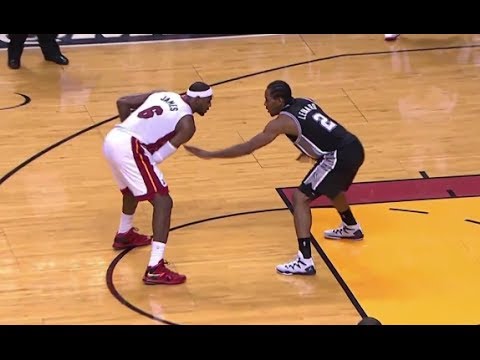 Yes, Kawhi Leonard, with the speed, footwork, tenacity, quick hands, great length and intelligence to pester and contain the greats of his era - LeBron, Kobe, Durant, and even the Big O! - will cause a lot of problems to MJ, frustrating him and taking him off his game (at which point Reggie will get further in his head talking mad smack). While it is very hard to stop the GOAT altogether, even if Jordan gets by Kawhi, he'll run straight into the 3x DPOY and 2x blocks Leader in Howard - and anyone who says that Kawhi won't slow Jordan down considerably, and not allow him to take over the game is lying to themselves, their family and their country.
We're gonna ICE every pick and roll, forcing the ball handlers to the sideline, and containing with the big men, who all have distinct advantages over their counterparts (Wes Unseld is 6'7, 245 - Afro included - Sikma is 6'11, 230, Rashard Lewis is a small forward who is very underwhelming as an actual POWER forward, Blake Griffin is a middle class man's Karl Malone, a Hummer to Malone's Mack Truck, not to mention Malone was way more skilled).
That leaves the 6'7" Reggie Miller to guard the 6'4" Havlicek, who was not a great shooter (44% was his best year, in an era where most shots were at the rim) but was known to never stop moving on offense, something which Reggie has the length, quickness and stamina to keep up with while blocking shots and contesting them.
My bench is also a powerful weapon in stopping this team, as Worthy can do a solid job guarding MJ, Roy, Rashard Lewis, and even Unseld (being that Worthy is 6'9" to Unseld's 6'7"), Lanier can stop Sikma if he proves too much for Dwight Howard (but let's be realistic, he won't) and Rose's penetration will collapse what (outside of Payton and MJ) is not a very strong defence.
OFFENSE:
We're again going to run a lot of horns, as no one other than Payton/MJ can stop our dribble penetration, but while they're doing that, we have 2 open shooters on the corner, with height advantages over their defenders, as well as big men who are quicker, more athletic, more dominant than their counterparts (Dwights 6'11, 275 vs Griffin and Malone's 6'9, 260 vs Unseld).
Because they have two great defensive guards, we're going to run a motion offence, which will minimize their guards' individual/1on1 defensive abilities and take advantage of their weaker forwards/big men by keeping the ball moving, causing the defence to scramble, getting us very high percentage shots and favourable mismatches (of which we have a lot) which we will convert into points every single time.
Having Unseld at Center allows us to go small ball against them, putting Malone and his floor stretching 15 footer at the 5 guarding Griffin, Worthy with his athleticism, speed, post defense and superb finishing at the 4 guarding Unseld and a mix of Kawhi, Reggie, D Rose, Stockton to punish the D with their speed, outside shooting, playmaking and finishing.
We're also going to focus inside, where our guys can use their size and weight advantages to absolutely dominate - Unseld may be a powerful guy, but the frontcourt he is facing is both taller and stronger than him, and it won't be easy to take advantage on defense like it was in his playing days; if Sikma is brought in, he can be easily covered by Lanier (even Howard in the post), and Rashard Lewis completely negated by Worthy.
In Game Adjustments
-
e_wheazy
Post-ups, as someone mentioned will be a big part of how we score, given our enormous advantage in the frontcourt, both in height and weight.
Punishing them down low will force their D to double, leaving great 3 point shooters open, or giving room to cut and finish at the rim, and they can hack away, but with a team of only 8, your guys WILL foul out, leaving you to play a weaker frontcourt, or 4on5 basketball.
We will have no problem initiating our offense either through horns, with plenty of PnR's, or motion, giving the defense two choices: switch and get beat on mismatches (of which there are plenty) and slow rotations leading to open shots, OR dont switch, exhausting their guys who have to chase their assignments around and leading to open shots off screens, tired legs or simply slower defenders.
Simply put, while this team my have the GOAT, it isnt impossible to beat, as they only have two threats on d, whose individual on-ball defense can be neutralized by simply moving the ball and not resorting to ISOs.
And if we're talking mental game, then consider that Jordan is without Pippen's strength and versatility to help on defense (Payton can't guard 3s or 4s, and isn't very adept at running an elite offense) and Rodman's incredible rebounding and defensive prowess inside (Unseld is getting NO rebounds over Dwight and will get crushed in the post every time), while my team is full of guys who have been beat by MJ before (when he had better goons to back him up) and are now joining forces to finally exorcise their demons and bring home the championship.
So RR faithful, who wins this game?