Never Forget.
Make
him respect us:
Matchup Notes

Miami Starters

Key Matchup of the Series

Oh hello there Kyle Lowry. Nice to see you again.
Leads the team with seven three-pointers made (7-for-22, .318) in the series vs. Miami.

Dragic came back down to earth in Game 3, but we still need to stay on him. Though he is probably terrified of guarding Lowry going forward.

In 2 games is averaging 20.3 points, 6.7 rebounds, 3.3 assists and shooting .381 (24-for-63) vs. Miami. Had a pretty solid Game 3, and needs to keep it going while looking to take the smart shots.

DWade is pretty damn good ... too bad he's a huge douche.
Carroll is averaging 12.3 points, 4.7 rebounds and shooting 46% (6-for-13) from three-point range in series vs. Miami. Needs to keep being the Junk Yard Dog that he is, absolutely LOVE the way he's been playing lately.

Still f*cking hate Joe Johnsons face.
Was a team high +13 and had a pretty strong Game 3, hitting 2 of 3 from downtown, and generally just being good in 35 minutes of action. Keep it up Pat Pat!

Deng needs to continue to be a non-factor.
Jonas Valanciunas recorded his sixth double-double (16 points, 12 rebounds) in Game 3 before leaving at the 8:53 mark of the third quarter with a sprained right ankle, and will not return for the rest of the Series.

Bismack is going to need to reach deep down and pull out some really nice games for us. Bismack Biyombo started 22 games for Toronto in the regular-season, averaging 7.2 points and 12.2 rebounds. Toronto was 11-6 without Valanciunas (fractured left hand) earlier this season (Nov. 22-Dec. 26).

No idea who Miami starts ... I'll leave Whitesides face there just to keep us hungry.

Toronto Reserves

Miami Reserves

Cory Joseph, Terrence Ross, Norman Powell ... Luis Scola
Bench struggled in Game 3, and with both Pat Pat and Biyombo moving to the Starting Lineup, the bench definitely takes a big hit .. needs to step up and play BIG going forward.

Josh Richardson guarding and playing the Point is weird and crazy.
Justice Winslow, Gerald Green, Josh Richardson, Udonis Haslem, Josh McRoberts
Key to the Game
We're 4-0 in games decided by 5 points or less ... so lets keep it close. Lol kidding...
We're 6-0 when they hold their opponent under 100 points, and still 5-1 when they take care of the ball and win the TO battle.
So take care of the ball, and play defense.
Last Meeting
GAME 3 - MAY 7, 2016 TORONTO 95, MIAMI 91
Noteworthy
• Toronto has won the season-series versus Miami the last two years - 3-1 in 2015-16 and 2-1 in 2014-15.
• Toronto improved to 4-0 in games decided by five points or less with a 95-91 victory May 7 in Game 3 at Miami.
• The Raptors have won the fourth quarter battle in the first three games vs. Miami for a +11 (77-66) margin.
• Toronto is shooting .500 (30-for-60) from the field in the fourth quarter vs. Miami, while holding the Heat to .386 (22-for-57).
• The last time Toronto won consecutive road games in the playoffs was during a first-round series in 2001 at New York when the Raptors won Game 2 and Game 5 at Madison Square Garden.
• The Raptors rank fourth overall in the NBA for road winning percentage (including playoffs) since 2013-14 – Golden State 95-45 (.679), San Antonio 89-51 (.636), L.A. Clippers 78-61 (.561), Toronto 71-61 (.538)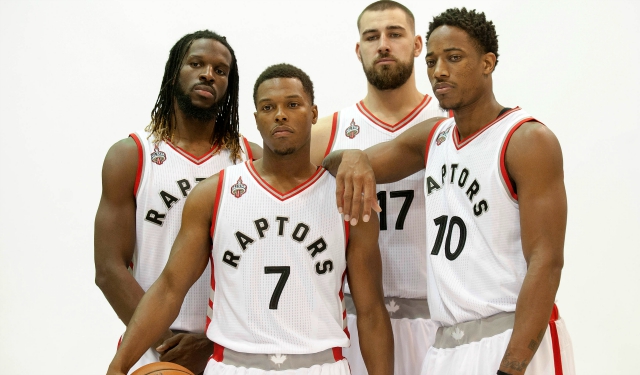 GO RAPS!!
#WeTheNorth