Projected Starters: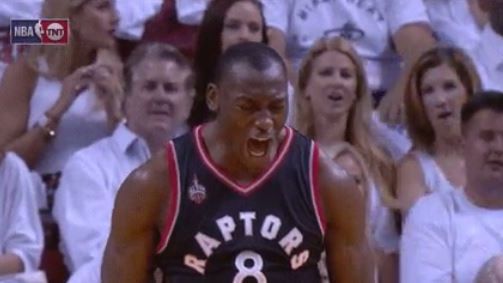 @
Projected Starters
Game Notes
Luol Deng says the only thing that will keep him out of Game 6 is if the doctors say he can't go.
DeMarre Carroll was initially listed as questionable after x-rays on his wrist came back negative, but he now seems confident he'll play. https://www.thestar.com/sports/rapto...e-carroll.html
Jonas was seen without his walking boot, still limping, in sneakers, so pray to the basketball gods that he can return at some point vs Cleveland if we make it that far.
DeMar DeRozan with 34 points last night tied the sixth-highest point total in Raptors playoff history. Only Vince (3 times), Bosh (once), and Kyle (once) have had higher-scoring playoff games. DeMar also scored 34 against the Pacers in round one.
Bismack's 4 blocks tied a Raptors playoff record held by Bosh, Carter, and Davis.
Kyle Lowry led the Raps with a scintillating +25 last game. Amare Stoudemire was -9 in three minutes last game and ended up glued to the bench in favour of McBob (18 mins) and Haslem (10 minutes), but also a no-big all-wing lineup that included Richardson and Winslow.
Raps still only had 16 assists last game, but the Heat were even worse with 12.
The Heat never led in game 5.
Raps moved to 5-0 after a loss in the 2016 playoffs.
If the Raps win, Game 1 of the Eastern Conference Finals would be--and this is pretty ridiculous--Sunday May 15th at 3:30pm et.
Fuck the Heat.