The legacy league was created to pit teams drafted by fellow RR members against each other and allow the general RR populous to vote on who would win this winner take all, single elimination game if all players were at their peak performance.
Each team drafted a 10 man roster. Each team provided a gameplan justification as to why they believe they should get your vote. Each team is allowed 1 post for "in game adjustments." The role of RR community is simple, vote for who you believe should win. Post justification if you want (encouraged) and weigh the pros and cons for all to see, but ultimately, your vote decides who will win this tournament of legends.
007 vs Apollo
APOLLO STARTING LINEUP

PG - Steph Curry
, 3x All-Star, 2x MVP
(2015-16 GSW Season: 30.1 PPG, 4.6 REB, 6.7 AST, 2.1 STL, 31.5 PER)
SG - Mitch Richmond
, 6x All-Star, ROY, HOF
(1996-97 SAC Season: 25.9 PPG, 3.9 REB, 4.2 AST, 1.5 STL, 21.6 PER)
SF - Rick Barry
, 12x All-Star, Finals MVP, ROY, HOF
(1974-75 GSW Season: 30.6 PPG, 4.6 REB, 6.2 AST, 2.9 STL, 23.5 PER)
PF - Karl Malone
, 14x All-Star, 2x MVP, HOF
(1989-90 UTA Season: 31.0 PPG, 11.1 REB, 2.8 AST, 1.5 STL, 0.6 BLK, 27.2 PER)
C - Shaquille O'Neal
, 15x All-Star, 1x MVP, 3x Finals MVP, ROY, HOF
(1999-00 LAL Season: 29.7 PPG, 13.6 REB, 3.8 AST, 0.5 STL, 3.0 BLK, 30.6 PER)
---
6 - Dominique Wilkins, 9x All-Star, HOF
(1985-86 ATL Season: 30.3 PPG, 7.9 REB, 2.6 AST, 1.8 STL, 0.6 BLK, 23.3 PER)
7 - DeMarcus Cousins, 2x NBA All-Star
(2015-16 SAC Season: 26.9 PPG, 11.5 REB, 3.3 AST, 1.6 STL, 1.4 BLK, 23.6 PER)
8 - Tony Parker, 5x All-Star, Finals MVP
(2008-09 SAS Season: 22.0 PPG, 3.1 REB, 6.9 AST, 0.9 STL, 23.4 PER)
9 - Klay Thompson, 2x All-Star
(2015-16 GSW Season: 22.1 PPG, 3.8 REB, 2.1 AST, 0.8 STL, 18.6 PER)
10 - LaMarcus Aldridge, 5x All-Star
(2013-14 POR Season: 23.2 PPG, 11.1 REB, 2.6 AST, 0.9 STL, 1.0 BLK, 21.8 PER)
Defense
We'll go man to man. 007 is undersized in the paint, giving up strength and mass. They're aren't threat to stretch our defense. We'll clog the paint, making it difficult for Jason Kidd, who is an unreliable shooter. They'll attempt to utilize a lot of pick and roll. Our perimeter players are intelligent and fast enough to overcome. Steph, Mitch and Rick are great at pick pocketing and will be hunting for turnovers.
Offense
Steph, Mitch and Rick will look to for easy points on turn overs. Steph and Rick will share play making duties. We'll look to slow the pace down, running mostly half court, utilizing Shaq's dominate post presence. Mailman as well is outstanding in the post as well as face up, a perfect complement to Shaq. The perimeter guys are all marksmen who know how to penetrate and pass. The dominate inside out game will punish 007, forcing him to pick his poison.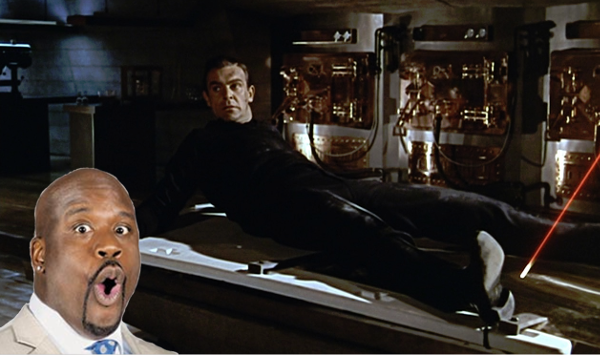 007 STARTING LINEUP
PG: Jason Kidd
– 6 time All-NBA, 9 time All-Defensive team. 5 time assists leader. Only player in NBA history with 15,000 points, 10,000 assists and 7,000 rebounds
SG: Chauncey Billups
– 3 time All-NBA, 2 time All-Defensive team. NBA Finals MVP, over 42% 3PT shooter at his peak
SF: Scottie Pippen
– 7 time All-NBA, 10 time All-Defensive team. NBA steals leader, one of the greatest perimeter defenders of all time
PF: Dennis Rodman
– 2 time All-NBA, 2 time DPOY, 8 time All-Defensive team. 7 time rebounding champion, one of the greatest rebounders and defenders of all time
C: Wilt Chamberlain
– 4 time MVP, 10 time All-NBA. 7 time scoring champion and 11 time rebounding champion. 100 point game. One of the greatest players of all time
BENCH:
Bob Cousy – MVP, 12 time All-NBA. 8 time assists leader, 6 time champion
Jeff Hornacek – 2 time 3PT contest winner, 44% 3PT shooter at his peak
Bernard King – 4 time All-NBA, NBA scoring champion
Elvin Hayes – 6 time All-NBA, 2 time All-Defensive team. 2 time rebounding champion and NBA scoring champion (as a rookie)
Robert Parish – 2 time All-NBA, 4 time champion. NBA all-time leader in games played
GAMEPLAN
The obvious weakness for Apollo is point guard. Curry will not be able to guard Kidd or Cousy, and Parker isn't a standout defender either. Both my guards will slice through and use their incredible passing to create good shots. Wilt will be the go-to weapon, as arguably the most unstoppable force in NBA history. Billups and Pippen can space the floor while we use the Kidd-Chamberlain pick-and-roll and Rodman crashes the glass like a madman. Cousy means there will always be an incredible playmaker on the floor, and the bench brings firepower. Defensively Pippen and Rodman can cover any position on the floor while Chamberlain patrols the paint. Kidd and Billups should be enough to cover Curry and Thompson, but if not Pippen can lock down either one, while Rodman does the same to any big man. And good luck out-rebounding this team.
I'm just gonna leave this here: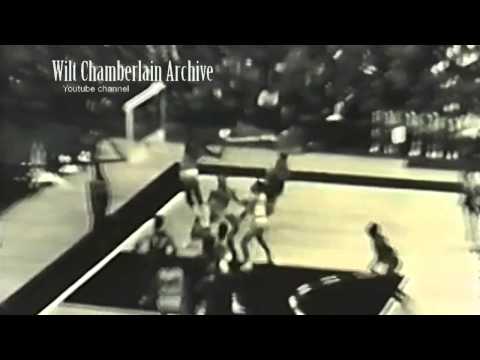 ---
In Game Adjustments!
Apollo's Adjustment:
007 greatly underestimated Barry, one of the greatest point forwards of all time. He moves to SG because he's fast and skilled enough for it. Nique enters to provide explosive penetration into the paint. Curry is not a liability against Kidd because Kidd can't shoot and won't find room inside.
And 1: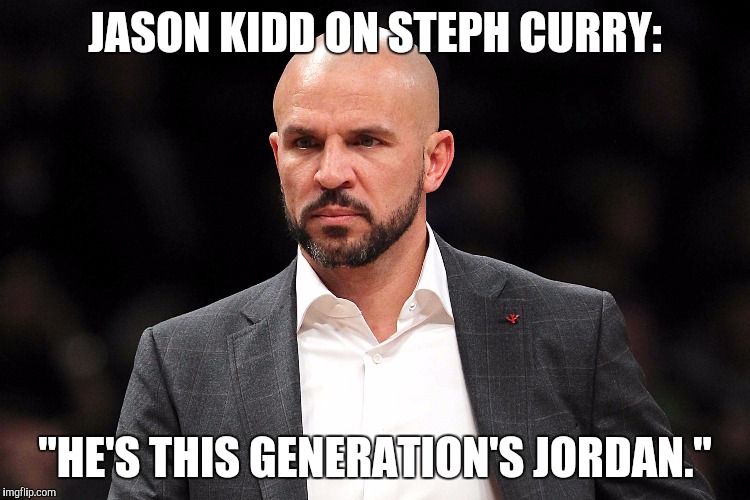 007's Adjustment:
Size is not an issue with Wilt's offensive ability and having two of the greatest offensive rebounders ever in the frontcourt. Wilt is also arguably the most athletic man on the floor, fast break will be unstoppable. Pippen and Rodman can both neutralize Barry or any other perimeter player.
And if you want to play the quotes game:
So RR faithful, who wins this game?