The legacy league was created to pit teams drafted by fellow RR members against each other and allow the general RR populous to vote on who would win this winner take all, single elimination game if all players were at their peak performance.
Each team drafted a 10 man roster. Each team provided a gameplan justification as to why they believe they should get your vote. Each team is allowed 1 post for "in game adjustments." The role of RR community is simple, vote for who you believe should win. Post justification if you want (encouraged) and weigh the pros and cons for all to see, but ultimately, your vote decides who will win this tournament of legends.
TrueTorontoFan vs Joey
TrueTorontoFan Lineup

Gary Payton
(6'4'') – NBA Champion, 9x All star, 9x all nba, 8x all defence, Former defensive player of the year, Former NBA steals leader
(1995-96 Sonics Seasons: 19.3 PPG, 4.2 REB, 7.5 AST, 2.9 STL)

Reggie Miller
(6'7'') –5x All star, 3x all nba, 50-40-90 Club, Pacers all time scoring leader
(1989-90 Indiana Season: 24.6 PPG, 3.6 REB, 3.8 AST, 1.3 STL) -(50-40-87 this season)
James Worthy
(6′9″) –3x Champion, 7x all star, 4x blocks leader, 2x all nba, NBA 50th Aniversary All Time Team, HOF
(1989-90 Laker Seasons: 21.1 PPG, 6. REB, 3.6 AST, 1.6 STL, .6 BLK, 30.6% 3pt %)
Charles Barkley
(6′6″) –MVP, 11x all star, Rebound Leader (14 RPG), 11x all nba, NBA 50th Aniversary All Time Team, HOF Shot 34% in one season from 3, highest PER was 24.63)
(1992-93 Phoenix Seasons: 25.61 PPG, 12.2 REB, 5.1 AST, 1.6 STL, 1.0 BLK, 30.6% 3pt %)
Kareem-Abdul Jabbar
(7′2″) – All-Time Point Leader, 6x Champion, 5x MVP, 19x all star, 4x blocks leader, 11x all defence, 15x all nba
(1979-81 Laker Seasons: Career: 24.6 PPG, 11.2 REB, 3.6 AST, .9 STL, 2.6 BLK, 27.2 PER)
Russell Westbrook (6′5″) – 5x all star, 2015 Scoring Champion, 5x all nba, 18 regular season triple-doubles (2015-2016), College Pac-10 Defensive player of the year
(2015-16 OKC Seasons: 23.5 PPG, 7.8 REB, 10.4 AST, 2.0 STL, .3 BLK, 27.64 PER)
Sprewell (6′5″) – 4x all star, 1x all nba, 1x all defence
(1996-97 GSW Seasons: 24.2 PPG, 4.2 REB, 6.3 AST, 1.7 STL, .6 BLK)
Kyle Korver (6′7″) – all star, lead the league in 3 point% two years in a row2013-2015 (47.2% and 49.2% respectively)
(2014-2015 Atlanta Seasons: 12.1 PPG, 4.1 REB, 2.6 AST, .7 STL, .6 BLK, 49.2% 3pt %)
Karl-Anthony Towns (7′0″) – ROY, all rookie first team, all rookie team, shot 54% from the field, 34%
(2015-16 Phoenix Seasons: 18.3 PPG, 10.5 REB, 2.0 AST, 2.0 STL, 1.7 BLK, 22.59 PER)
Ben Wallace (6′9″) – Champion, 5x 4x Defensive player of the year, former nba blocks leader, 4x
all star, 4x blocks leader, 6x all defence, 5x all nba
(2002-03 Pistons Seasons: 6.9 PPG, 15.4 REB, 1.6 AST, 1.4 STL, 3.2 BLK)
Gameplan

Offense
Finesse vs the best. Hakeem vs Kareem. I would work the pick and roll and slash and kick game heavily in this game. Reggie would act is the faithful release valve. Chuck could out run and out rebound his counter part. Team is full of willing passers Bruce Bowen can't guard "Big Game James"
Defense
With GP out on the floor there would be heavy emphasis on guarding passing lanes and keeping the ball out of the hands of Hakeem. Ben Wallace would come to help slow down Hakeem. Again though the key would be turning this into a perimeter game. James Worthy and Chuck would Switch between the two.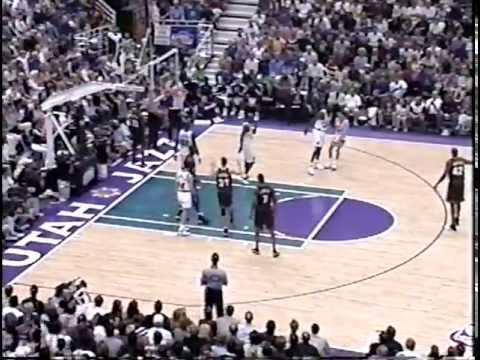 Joey's Legacy Allstars
Starters
PG John Stockton
-
17.2ppg, 14.5apg, 2.7spg, 51%FG, 42%3P, 124 ORtg, 23.9PER, 57.4AST%

11x All-NBA Selection, 5x All-Defensive Team Selection, 9x Assist Leader, 2x Steals Leader, Most Assists in NBA History*, Most Steals in NBA History*, 50-40-85 Club...
SG Tracy McGrady
-
32ppg, 6.5rpg, 5.5apg, 1.7spg, 39%3P, 116ORtg, 30.3 PER
7x All-NBA Selection, 2x Scoring Champion, BAMF
SF/PF Tayshaun Prince
-
14.2ppg, 5.8rpg, 3apg, 40%3P
NBA Champion, 4x All-Defensive Team Selection, Bruno-Long
PF/C Willis Reed
-
21.7ppg, 13.9rpg, 21.9 PER, 7.5DWS
MVP, 2x Champion, 2x Finals MVP, 7x All-Star, 5x All-NBA Selection (1x 1st Team, 4x 2nd Team), All-NBA Defensive Team
C Hakeem the Dream
-
24.1ppg, 12.7rpg, 2.0spg, 3.8bpg, 24.7, 96DRtg – averaged over 8 Seasons
2x NBA Champion, 2x MVP, 2x Finals MVP, 2x Defensive Player of the Year, 12x All NBA Selection, 9x All-Defensive Selection, 2x Rebounds Leader, 3x Block Leader, Most Blocks in NBA History*, Only player in NBA history to retire in the Top-10 for Blocks, Rebounds, Scoring and Steals.
Bench
SG Ray Allen
-
22ppg, 5.2rpg, 4.6apg, 1.5spg, 48%FG, 43%3P, 61%TS, 22.9 PER

2x NBA Champion, 10x All-Star, 2x All-NBA Selection, Most 3-Pointers Made in NBA History*
PG/SG Dennis Johnson
-
19ppg, 5.1rpg, 4.1apg, 1.8spg, 4.4DWS
3x NBA Champion, Finals MVP, 2x All-NBA Selection, 9x All-Defensive Team Selection, "Toughest Defender Ever" –Iceman GG
SF Bruce Bowen
-
100DRtg, 40%3P, 13DWS – over 3 seasons Starting every game and Winning 2 Rings
3x NBA Champion, 8x All-Defensive Team Selection, BAMF
PF Shawn Kemp
-
18.1ppg, 10.8rpg, 2.1bpg, 1.6spg, 22.9 PER, 6.0 DWS, 96 DRtg

6x All-Star, 3x All-NBA Selection, BAMF
PF/C Robert Horry
-
12ppg, 5.8rpg, 4apg, 1.6spg, 1.5bpg, 37%3P
7x NBA Champion, Definition of Clutch, Tough as Nails
Joeys Gameplan (150 words)
With Gary Payton on record saying John Stockton was the toughest, most fundamentally sound person he EVER guarded, and with very few favourable matchups for TTF, I feel like my all-around defense, passing, shooting, and attacking will prevail.
We'll give Westbrook plenty of space and opportunity to kill all offensive flow, but throw DJ at him occasionally to show him who's boss. We'll crowd and pester everyone else hard with our depth of defenders, and tie them in knots with off ball screens and clean shots.
Front Kareem hard, throw lots of length at him, go small for portions to force TTF to chase or adjust.
TMac lighting up Reggie would be awesome to watch.
Take advantage of KATs inexperience at every opportunity, and Wallaces complete ineptness on Offense. No way Barkley could stop the original round mound of rebound Reed. Use overall length advantage to disrupt lanes and shots.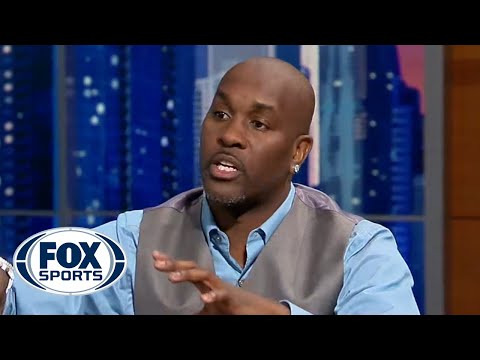 In Game Adjustments
- Coming Soon!
So RR faithful, who wins this game?