The legacy league was created to pit teams drafted by fellow RR members against each other and allow the general RR populous to vote on who would win this winner take all, single elimination game if all players were at their peak performance.
Each team drafted a 10 man roster. Each team provided a gameplan justification as to why they believe they should get your vote. Each team is allowed 1 post for "in game adjustments." The role of RR community is simple, vote for who you believe should win. Post justification if you want (encouraged) and weigh the pros and cons for all to see, but ultimately, your vote decides who will win this tournament of legends.
Maury vs 007
Maury Lineup
PG Isaiah Thomas
- 21.3 PPG, 11.3 APG, 2.3 SPG (84-85), 12x All Star, 2x NBA Champion, Finals MVP, 5x All NBA, 3x All NBA 1st Team
SGMichael Jordan
- 33.6 PPG, 6.9 RPG, 6.3 APG, 2.8 SPG, .376 3P% (89-90), DPOY, 14x All Star, 5x MVP, 6x NBA Champion, 6x Finals MVP, 9x All Defensive, 11x All NBA
SFJulius Erving
- 27.4 PPG, 10.7 RPG, 2.3 SPG, 2.5 BPG, .395 3P% (74-75), 3x ABA MVP, 1x NBA MVP, 16x All Star, 3x Champion, 13x All NBA/ABA, 1st team All Defence
PFBill Walton
- 18.6 PPG, 14.4 RPG, 3.2 BPG, 5.0 APG, 24.8 PER (76-77) 2x All Star, NBA MVP, 2x NBA Champion, Finals MVP, 2x All Defensive 1st team, 2x All NBA, 6MOY.
CYao Ming
- 25.0 PPG, 9.4 RPG, 2.0 BPG, 2.0 APG, .516 FG%, .862 FT%, 8.6 FTA, 8x All-Star, 5x All-NBA
Bench
Derrick Rose
- 25.0 PPG, 7.7 APG, .445 FG%, .332 3P% (10-11), 3x All Star, Youngest MVP in league history, All-NBA 1st team
Sidney Moncrief
- 19.8 PPG, 6.7 RPG, 4.8 APG, 1.7 SPG (81-82) 22.6 PER (82-83), 5x All Star, 2x DPOY, 5x All Defence, 5x All NBA,
Glen Rice
- 26.8 PPG, 4.0 RPG, .470 3P%, .477 FG%, 0.9 SPG (96-97), 3x All Star, NBA Champion, 2x All-NBA
Chris Webber
- 27.1 PPG, 11.1 RPG, 4.2 APG, 1.7 BPG, (00,01) 5x All Star,
5x All NBA
Bob Pettit
https://www.youtube.com/watch?v=zGeI6ypgtP0
007 STARTING LINEUPBENCH:GAMEPLAN
I've got the best possible players to guard Jordan. Pippen is the greatest perimeter defender of all time, and Rodman is right up there with him, and is someone used to guarding Jordan. The two will be able to switch when needed, with the other locking down Erving. In the frontcourt Wilt has the advantage on all the bigs Maury can throw at him. He has size on Walton, Webber and Pettit and has athleticism and speed to blow by Ming on the break, maneuver around him in the post and defend him better than anyone Ming ever faced. Parish will take the inevitably smaller player Maury lines up at PF and will use his size to defend and shoot over his smaller matchups. Kidd can sag off Thomas slightly on the perimeter, preventing drives. The two 7-footers and Rodman means a huge rebounding advantage and lots of second-chance points.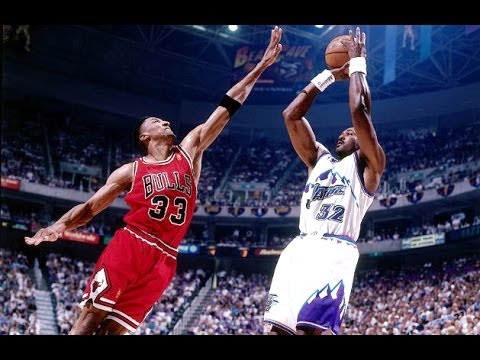 In Game Adjustments - Coming Soon!

So RR faithful, who wins this game?