The legacy league was created to pit teams drafted by fellow RR members against each other and allow the general RR populous to vote on who would win this winner take all, single elimination game if all players were at their peak performance.

Each team drafted a 10 man roster. Each team provided a gameplan justification as to why they believe they should get your vote. Each team is allowed 1 post for "in game adjustments." The role of RR community is simple, vote for who you believe should win. Post justification if you want (encouraged) and weigh the pros and cons for all to see, but ultimately, your vote decides who will win this tournament of legends.

Bobloblaw vs Axel BobLoblaw Lineup

g

Penny Hardaway

; 1995 NBA finals: 25.5pt, 8ast, 5rb, .500 FG%, .458 3P%

g

Kobe Bryant

f

Kawhi Leonard

f

Kevin McHale

, 6 time all defense, the only player in history to average 25+ points on .600+ FG%

c

David Robinson

, DPOY, MVP

Reserves

6th man:

Nate

tiny

Archibald

, the only player in history to lead the league in scoring and assists in the same season

g

Brandon Roy

g/f

Chris Mullin

stretch big:

Bob McAdoo

, MVP 1975

D big:

Dikembe Mutombo

, 4 time DPOY

Penny abuses Stockton in the post: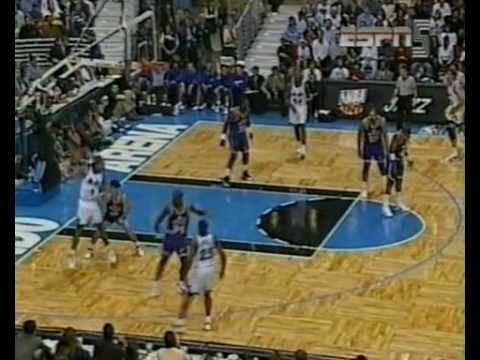 Defense:
Larry will be hounded by Kawhi Legend. Kobe will cover CP3. Penny was 6'7 and solid defensively, good enough to stay in front of Drexler who's a poor shooter.
We're starting 4 All-defense players, and the shortest starter is Kobe at 6'6. Defensive team. Long armed, tall, athletic.
Rim protected by Robinson (maybe the quickest, most athletic center ever) and McHale with freak wingspan.
Offense:
Triangle-ish system. We have 3 huge perimeter players who can all post up, rotate positions, shoot, pass. CP3 too small to defend anyone here.
Also Penny pick and roll, with Robinson and other athletes exploding to the rim. And transition.
Our big men are much better.
McHale was the master of low post and could also shoot from midrange. Robinson = athletic Swiss knife: midrange, post ups, passing, set screens, cut and collapse defenses like Tyson Chandler.
Axel's Lineup
PG - Chris Paul
-
6' 175 - 4x All-NBA 1st team, 6x All-Def 1st team, 4x NBA Assists leader, 6x NBA steals leader, 36.5% career 3P%
SG
/SF
Jimmy Butler
6'7 220 - 20.9 PPG, 5.2 RPG, 4.7 APG
SF/
PF -
Larry Bird
6'9 220 - 3x MVP, 2x Finals MVP, 2x 50-40-90
PF Serge Ibaka
6'10 245 - 3x All-Def 1st, 2x blocks leader, 35.5% career 3P%
C - Dwight Howard
6'11 265 - 3x DPOY, 4x All-Def 1st, 22.9 PPG 14.1 RPG 2.4 BPG
----
PG
Mookie Blaylock
6' 180 - 2x All-Def 1st, 4x All-Def 2nd, 2x steals leader, 17/6/5, 36.6% 3P%
SG/SF
Clyde Drexler
6'7 210 - 27.2 PPG, 7.9 RPG, 5.8 APG, 2.7 SPG
SF/PF
Ron Artest
6'6 260 - 18.8 PPG, 6.5 RPG, 3.4 APG, 2.1 SPG, 35.8% 3P%, 2004 DPOY
PF/C
Rasheed Wallace
6'11 230 - 19.3 PPG, 8.2 RPG, 36% 3P%
C/PF
Arvydas Sabonis
7'3 279 - 6x Euroscar POY, 2x Mr Europa POY, Hall of Fame

Axel's gameplan
Butler starts to match Kobe. The 20/5/5 guard will deny Kobe the ball early in possessions while Paul hounds Penny, making ball movement dwindle and Bob's offence into a series of ISO attempts by his score first guards. Without true PG, his offence will struggle.
Ibaka starts at PF, giving our defence two elite rim protectors to disrupt drives. Neither of Bob's bigs stretch the floor, so driving lanes will be congested. Penny struggled from deep most of his career, further clogging the lane and allowing Paul to cheat for steals when Kobe, inevitably, starts forcing his offence.
Bird will operate at the elbow and use his elite passing from the high post; negating much of Leonard's value as a perimeter defender. Paul will abuse Penny, allowing for easy scores and open passing lanes.
Drexler off the bench is a huge mismatch that Bob's bench wings can't prevent.
In Game Adjustments - Coming Soon!

So RR faithful, who wins this game?