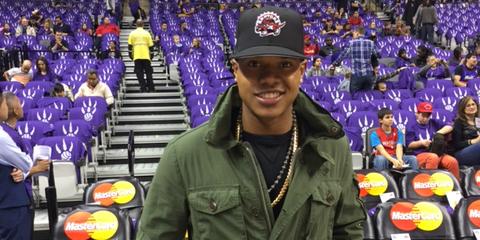 http://www.cbc.ca/sports/baseball/ml...hers-1.3802262
Demarre Carroll:
"It's crazy, man," said forward DeMarre Carroll. "Just to see how the city gets behind their team, we feel like the Blue Jays are kind of like our brothers, we want them to go as far or further than we went. We have to stick together and I feel like: one team, one country. That's the motto we have to take and the Blue Jays are doing real good now and hopefully it doesn't stop there and they can win a World Series."
Dwane Casey:
"Winning is contagious and I said this the other night at our team dinner," Casey said. "It's great for us to experience the Blue Jays winning, for the guys to go to the games and feel the passion that the fans have, and winning. There's a pride in that. I feel it for the Blue Jays. The players feel it and hopefully [the Jays]*felt it for us. Anything we can do to be a part of that, to go see it, to watch it, to have something to pull for, it's great for us, it's great for the city."
Demar Derozan:
"Sometimes you want to get out of your element of being so caught up, and stressed over your own job, you want to be able to cheer on somebody else's profession, in your own city, and watch them perform instead of you worrying about the preparation, you going against your own opponent," DeRozan said. "Now we get to sit back, relax and enjoy."
Shoutout to @Klow7 for coming out and showing his support last night! #OurMoment pic.twitter.com/F7iyvsd2XK

— Blue Jays (@BlueJays) October 10, 2016
Break out the brooms, the @BlueJays are off to the ALCS.

Congrats, fellas! #OurMoment pic.twitter.com/oCMfjxlAOK

— Toronto Raptors (@Raptors) October 10, 2016
Gotta love how the Raps are embracing the Blue Jays, just like they did the Raps on their run. Gotta say, its a pretty good time to be a Toronto Sports fan!