Game #82 Raptors VS Cavaliers @ Quicken Loans Arena, Wednesday April 12, 2017, 8 PM EST
Alright guys, this is the big one. We either close out the season on a hot streak, or we end up losing a game to a heated rival in the Cavs. This one is for pride, justice & proof we can hang with the elite team in the league!
Projected Starters
At Point Guard for the Raptors, he's the tough 6 foot bulldog, the 31 year old from Philly whose come back from injury & has shown he's ready for these playoffs..... #7,
KYLE LOWRY!
At Shooting Guard, the man who has been the backbone of this squad, the man who idolized Kobe so much his style of play is freakishly similar, the man from Cali who never quits....... #10,
DEMAR DEROZAN!
At Small Forward, the guy who takes a lot of bullcrap for his contract & his injuries, the guy who stole a nickname from a beloved Raptor before him, the man who hopes to prove he can be a catalyst these playoffs... #5,
DEMARRE CARROLL!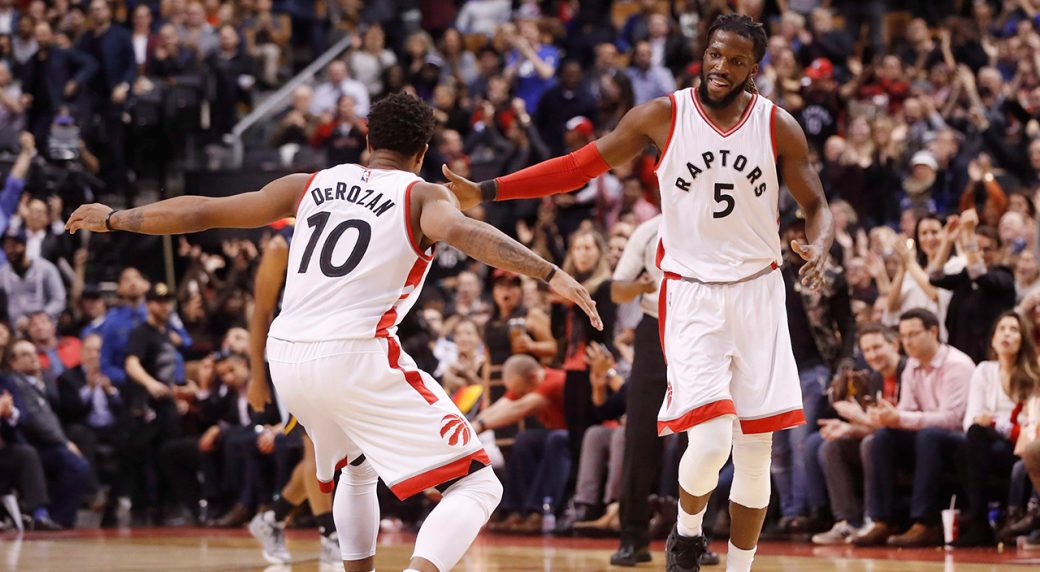 At Power Forward, the guy who was disgruntled in Orlando, tossed away like a used tissue in OKC, the man who been to the NBA Finals & hopes to be a key piece in leading his newfound team there.... #9,
SERGE IBAKA!
At Center, the man from Lithuania, The ittybittyballers.ca pusher, the guy who either plays with his heart on his sleeve or looks drunk out there, #17,
JONAS VALANCIUNAS!
And our opponents, the Cleveland Cavaliers Starting Group:
PG- Kyrie Ivring
SG- JR Smith
SF- Lebron James
PF- Kevin Love
C- Tristan Thompson
LET'S GO GET 51 WINS BABY!