Donatas Motiejunas aka Bargnani 2.0 (2.0 because from reading the profile it seems that he can rebound, play better D and is more aggressive)
http://www.nbadraft.net/players/donatas-motiejunas
You can't go wrong with 2 jumpshooting 7 footers

:P
Strengths: Versatile lefty bigman with a high ceiling ... Has a lot of potential due to his size, agility and offensive development ... A finesse 4-man with excellent versatility, but shows the toughness to play inside with contact ... Shows a strong ability to run the floor and change directions, start and stop ... Has great legs (strong) and feet (quick) ... Has inside/outside ability with the ability to defend inside and play with his back to the basket, as well as knock down shots on the perimeter ... His outside shot has both range and consistency, and he has begun to develop some excellent moves including a jump hook, a turnaround fadeaway as well as fakes to draw opponents off their feet and excellent footwork ... Shows a competitive fire. He has a strong desire to win and improve, he just needs to show that at all times ... Gets off the floor quickly and has solid explosiveness ... A solid shot blocker ... Comfortable handling the ball when necessary to break the press and has solid vision and passing ability ... Has a very good body and appears that he will be able to add upperbody strength and become a solid rebounder and interior post player at the NBA level ...

Weaknesses: Is extremely talented and he knows it. At times he doesn't keep the pedal to the metal, exhibiting some lapses in focus and intensity (laziness) in practices ... Sometimes appears content to be better than others without dominating them the way he's capable ... That's the type of thing that he'll need to mature out of, learning to work hard at all times in order to reach the stature of a Gasol or Nowitzki ... Still needs to add polish on his moves on the perimeter but has excellent potential to do so ... Has thin arms and upperbody, although he has solid strength. He'll need to get stronger to contend with NBA bigs ... Solid length (6-11 wingspan) but nothing extraordinary ... Not as experienced or established as other European talents (such as Gasol or Nowitzki) were when they entered the NBA.
(on NBAdraft.net he's listed at #5/#6 overall)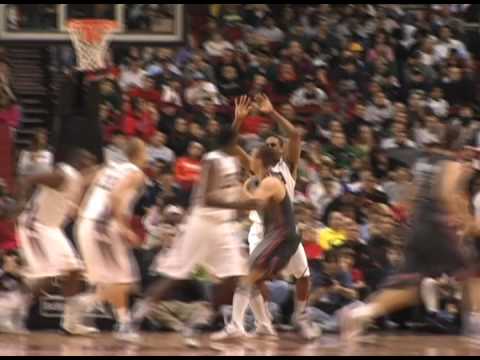 --------------------
All joking aside, if we get the #1 pick I hope we get a PG, I want Weems to stay as the starting SF.