Last night I was fortunate enough to attend the DRAFT PARTY at Real Sports..
Firstly noted, few things:
~ they mentioned that they had overbooked and had given out 2000 tickets but the capacity was only 1100... tho the attendance might've tipped 1100, there's NOWAY there were 2000 ppl there
~ Food, Drinks..pretty good. Soft drinks free, Red Bulls $, Alcohol free with your drink tickets (everyone got 2 with a DRAFT PARTY Tshirt/Hat)
~ Within minutes of getting there, rumblings non-stop were for BISMACK. Literally every corner had someone talking about how the raps were going to either get another pick to grab him or trade down for him
~ Funny enough, many of the MLSE staff were ALL OVER the potential of getting BISMACK; almost as if they knew something no one else did
~ Matt Devlin came out a few minutes prior to 7; talked about the importance of the draft; how BC and DC were here but busy in the war room; brought out Ed Davis, Demar, Sonny, James Johnson, Solo, Dorsey...
~ Interviewd JJ, nothing noteworthy other then dude got a MAJOR tan... couldn't even tell it was him
~ Called up Sonny, saying a little girl in the front of the crowd had a petition to keep Sonny in Toronto and he had to sign it; he did; so did some of the Raps... Demar Didn't lol
~ Demar ... just said he loves the city, working out, looking forward to next year
~ Autographs etc
~ Dwayne Casey came out; talked about a few guys in the draft they're looking at, mentioned BISMACK

and his length and arm span, said they have an idea of who they want; Excited to be here; will expect effort from his players
~ Matt Devlin asks the crowd.. 'Who do YOU GUYS want the RAPS to pick?... KNIGHT AND WALKER were being echoed throughout the place... He asks 'HOW ABOUT BISMACK BIYOMBO?'... Boos reign...noticeably
~ Draft begins, cheers for Irving; avg for Williams; HUGE POP for Kanter... like HUGE
~ Utah picking Kanter meant (or what everyone thought) that CLE wouldn't take another PG and the RAPS would get their guy BRANDON KNIGHT at the 5
~ Clev throws a curveball and drafts TRISTAN THOMAS.. the place ERUPTS!! Everyone proud and appreciative of TT
~ Here I am, along with 1000 other ppl thinking...Feel good moment, highest Canadian to get drafted followed by the future of the Raps...should be great
~ David Stern to the podium....
(REAL SPORTS LAST NIGHT)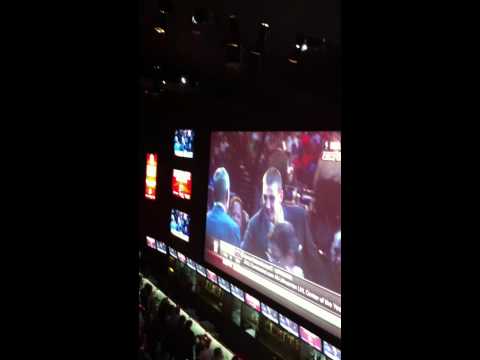 ~ At the end of it, I can say that i was caught off guard for sure
Few Positives to consider:
~ BC has a pretty good drafting history; demar, davis, bargnani (really aldridge is the only guy better in that draft); marion, stoudamire...
~ the SPURS were desperate to trade Parker to draft this guy and tried till the 11th hour... and we all KNOW how GREAT SA draft history is/has been
~ had he not had a buyout clause, Maybe he goes even higher?
~ he happily admits that he's a 5, not a 4... that he likes to rebound, pick n roll and play D... ALL needs of the Raps
~ BC drafting for whats best for the team rather then immediate assistance (i.e. to help him/team/contract NOW); he could have easily got someone to help the team today and make MLSE's decision of keeping him look like the right one; instead he's doing whats best for the future.. GOOD? BAD?
~ latest rumblings this morning are the buyout is 2.5 mill; Toronto can pay 500K; good chance he COULD play this year
Negatives:
~ chance he doesn't play for 2 years (not really a negative, but we need help now)
~ BUST (the biggest factor of all)
Other Notes:
~ I was all over KNIGHT or WALKER with the 5th pick but have started to think that maybe it was for the best.. they got passed over by a good chunk of teams and fell well below where all drafts had them; maybe something that other gm's all saw ?
~ I'm thinking, MAYBE the Raps are thinking Bayless, with his age and experience is more valuable to them now then Knight or Walker... Bayless is only 23 with 4 years of NBA experience and has shown some considerable upside...
Before everyone gets upset at the pick and how it's not for now etc... regardless of the pick ..
HERE's the BIGGEST PROBLEM the Raps have ....
$15 Mill in CAP Space and NO ONE Willing to take it.