(Each link takes you to the video at NBA.com)
Part 1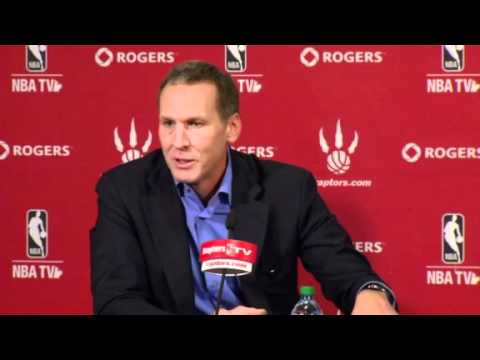 Short contracts, lots of 1 year deals.
Sticking to plan of flexibility and develop young talent - get as many minutes as possible.
Guys have to earn minutes.
Focus is to get better defensively.
Cheesy 2011-12 marketing campaign: We're not rebuilding, we're building.
Year of evaluation of guys currently on the roster.
$10-20M cap flexibility next year.
Part 2
http://www.nba.com/raptors/video/pla...ia-availaility
Kleiza is about 1-2 months out... maybe.
No backup SF, no third PG, just 4 bigs - another needed, at least.
Lots of minutes this year due to schedule.
Not a lot of practice time - unfortunately.
Can't get in to zone defensive systems until man defense is taught.
Games may be considered practices, same with shoot arounds.
Players in good shape, ready to go, excited.
Part 3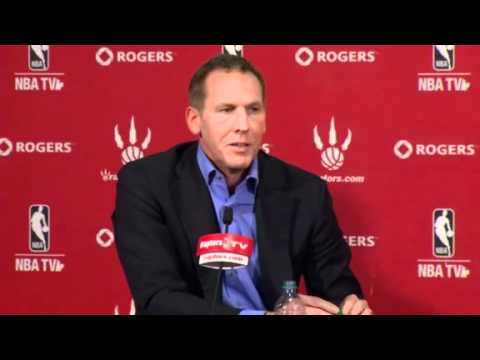 Casey talks defense.
BC talks JV fiasco this week.
Steffi talks JV.
Part4
http://www.nba.com/raptors/video/201...ESSER4-1927853
BC talks expectations... they have none.
Unlikely to use amnesty.
BC motto: hit the ground running in 2012-13.
Deep draft - good picks in the middle.
Kelly: Raptors set bar as low as it can go
Raptors GM Bryan Colangelo's first chance to reintroduce himself to the city on Wednesday was a model of rhetorical economy.

Somehow, he managed to combine both his 'Hellos' and 'Goodbyes' to the 2011-12 season in one half-hour presser.

This is no longer a "rebuilding" team. It's a "building" team. That clever piece of sophistry was coach Dwane Casey's idea. It sounds better, but amounts to exactly the same thing.

The Raptors will view the coming season as an extended training camp and will sit tight until last year's lottery pick, Jonas Valanciunas, arrives and is joined by a second touted rookie — one as yet to be determined — in 2012-13.

By that time, Colangelo believes he'll have $10-20 million in free-agent mad money, which confirms what everybody already knew — that he has no intention of using the amnesty clause in the new CBA to dump salary until next summer.

The upside to all this?

The Raptors plan to be tougher minded as a group. Casey spoke of instilling a "pack-it-in, zone-it-up" defensive scheme that amounts to building barricades up the middle. They promise to work harder, which is the sort of thing the last guy you want for the job is always promising.

Like developers holding waterfront property (which they sort of are), the Raptors are inviting fans to buy in cheap before the crowds start showing up.

The (rest of the) downside?

They aren't holding out little hope of win-loss success. They're holding out none.

Someone asked Colangelo to define what a "successful" season would mean to this team.

"To put ourselves in the position to hit the ground running the following season, that will be deemed a success," he said in part.

You hear that sound? That was the sound of a dozen Christmas bonuses evaporating into nothingness at MLSE's group-sales division.

Though he was precluded from talking specifically about additions to the thinned roster, Colangelo made it clear that there will be no surprise splashes on the Tyson Chandlers of the world.

Whatever human gristle is used to pad out this roster will be exactly that.

"To say that we're going to race out and sign someone to a significant contract is probably not the case, unless it's a one-year deal. We have contemplated a few of those scenarios, or acquiring a player in a trade with a one-year scenario," Colangelo said.

They've only got nine healthy bodies under contract. But it would be wrong to think of the Raptors as buyers. They're renters. Short-term, with easily breakable leases and no damage deposit.

"I actually feel kind of sorry for Dwane," Colangelo said later with a sympathetic smile. Casey, who's not much of a grinner, didn't smile back. Colangelo was talking about the grinding schedule, but it worked as a pretty decent blanket apology for the next four months.

Casey, the former Dallas assistant, was at pains to praise the team's offensive capability, before getting down to the nub of it — that everything will have to change.

Like defensive toddlers, the Raptors will first have to be taught Casey's man-to-man system before they get to that zone set-up he wants.

That's problematic, since a full course of learning is nearly impossible given the shortness of training camp, the onerousness of the schedule and the near absence of off-days for full-speed practices.

"A lot of games, sad to say, are going to be practices," Casey said.

You hear that other sound? That was everybody in group sales clicking the "Part Time Jobs" tab at Craigslist.

Nonetheless, this was all delivered with an upbeat air. Having emerged from the fog of Chris Bosh's rejection, the Raptors brain trust is ac-cen-tu-ating the many youthful positives. Given the draft and free-agent bonanza beckoning next summer, and given that everybody on the dais Wednesday is contracted through next season, they have every reason to look forward hopefully.

Fans who must live (and pay) in the present may feel less enthused.

This is going to be the sort of year enjoyed by monks, masochists and those who believe that pleasure is heightened in the long-term by a good deal of pain up front.
Source: TheStar.com
Doug Smith
What about the Raptors?

They have a couple of their own free agents to worry about but it looks increasingly unlikely that either Reggie Evans or Julian Wright are remotely in the future plans. But never say never.

On the flip side, president and general manager Bryan Colangelo said Wednesday he'd like to find a small forward, a third point guard and a fourth big man to fill out a roster that's now only got 10 players on it.

But the good news is that almost all 10 are back in town and ready to start — Linas Kleiza's still on the shelf — after DeMar DeRozan arrived for some pre-camp workouts at the Air Canada Centre on Wednesday.
Source: TheStar.com