ESPN Preview:
The Memphis Grizzlies picked up where they left off before the All-Star break by beating the defending NBA champions.

The Grizzlies will try to avoid a letdown when they visit the Toronto Raptors on Friday night.

Memphis closed the first half of the season with an 89-76 win over Atlantic Division-leading Philadelphia on Feb. 21, then came back from the All-Star break and defeated Dallas 96-85 on Wednesday.

Taking advantage of Dirk Nowitzki's absence for much of the game, Marc Gasol had 22 points and 11 rebounds while Mike Conley added 20 points and 10 assists as the Grizzlies (20-15) won for the eighth time in 10 games.

"We all told each other before the break that when we came back, it was a sprint to the finish line," Conley said. "Each game is going to be big, especially starting off against the defending champions. I thought we showed we were hungry and wanted to get off to a good start."

After taking advantage of a stretch of nine of 11 at home, Memphis will play four of five on the road. The Grizzlies have lost six of eight while averaging 90.9 points away from FedEx Forum.

Gasol will try to help Memphis turn things around on the road. He has four double-doubles in his last five games overall, averaging 16.2 points and 11.8 rebounds.

Gasol may be in line for another big effort with Raptors big man Andrea Bargnani likely missing his 17th straight game with a calf injury. The Grizzlies aren't about to offer up any sympathy to a team without its top scorer.

"This season is so condensed that every game means as much as the last," Conley said. "Believe it or not, but the Toronto game is bigger than the Dallas win. Each game gets bigger and bigger, so we have to take it one game at a time."

The Grizzlies have won five straight over the Raptors by an average of 7.2 points. Rudy Gay, who missed the first victory in that stretch, has averaged 21.4 points in his last five games against Toronto.

The Raptors (11-24) have won two of three since a four-game losing streak and are coming off a 95-84 victory at New Orleans on Wednesday.

After scoring a season-low 11 points in the third quarter, Toronto responded with 33 in the fourth to rally from a seven-point deficit. Leandro Barbosa scored 11 of his 15 points in the final period while Linas Kleiza hit three of his five 3-pointers and finished with a game high-tying 21 points.

"We made shots down the stretch and executed and that's what I'm most proud of our guys," coach Dwane Casey said. "Everyone came in, contributed and did a good job."

Kleiza, who missed the final three games heading into the break with a sore left ankle, has provided a lift off the bench. He averaged 15.7 points in February, more than double his average prior to that point.

DeMar DeRozan, meanwhile, averaged 22.8 points in his final five games of the month.

After Bargnani was seemingly working toward a return earlier this week, it's unclear if he'll be back at any point during the Raptors' four-game homestand.
Memories: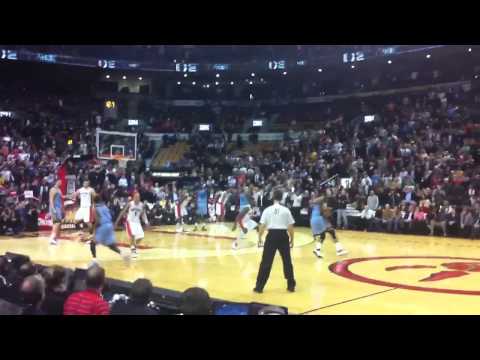 Watching and chuckling at that clip from last year, I noticed something. Did anyone see how easy it was for the Grizz to inbound that ball to Conley and get it easily to Gay to execute exactly the way the coach planned? Now think about the numerous 10 second and under sideline inbounds plays that have failed this year in Toronto. My point? Man, I never realized
JUST HOW BAD
the defense was. Don't get me wrong - I've played a lot of ball and know what defense is all about. However I think the last few years of watching predominantly Raptors basketball numbed my defensive-senses when it came to watching them - like I knew it was bad, but that clip is just baaaaaaaaad.