Raptors Republic has once again spoken...
With the 2nd Pick in the 2012 Raptors Republic Mock Draft, the Charlotte Bobcats select.....
MICHAEL KIDD-GILCHRIST, SF, KENTUCKY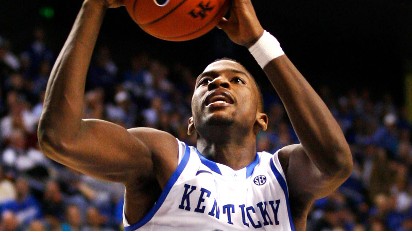 2011-12 NCAA Statistics
PPG: 11.8
RPG: 7.6
FG%: 49.1
Positives
•Elite athlete
•Amazing motor
•Tough, physical defender
•Excellent rebounder
•Attacks the rim on offense
Negatives
•Lacks a consistent perimeter game
Analysis, as per ESPN scouts
Why would anyone take Kidd-Gilchrist with a high lottery pick when he doesn't check off the typical boxes we associate with elite draft picks? "All of my scouts love him," one GM said. "Actually, 'love' isn't a strong enough word. Our coaches, when they watch him play, beg me to go get him. I've stood back for the past few months saying, 'What about his jump shot?' 'Can he create his own shot?' 'Is he big enough to thrive in the NBA?' I've given up. I love him now more than they do. He has the ability to dramatically affect a game with and without the ball in his hands. Whenever he steps on or off the court, everything changes. He's a winner. He's a leader. That motor he has, the toughness he has, the intensity that he has ? those are NBA skills, too."

Winner. Leadership. Motor. Toughness. Intensity. They all pop when you see him on the court. He also is a terrific defender who can guard multiple positions. And while he struggled as a jump-shooter, he was a very effective scorer in transition and cutting to the basket. Scouts who love him also point out that he's the youngest player in the draft. Oh, and a few old-timers say that MKG's best pro comparison may be another versatile forward named Scottie Pippen
.