The votes have been tallied and with the 3rd Pick in the 2012 Raptors Republic Mock Draft, the Washington Wizards select.....
THOMAS ROBINSON, PF, KANSAS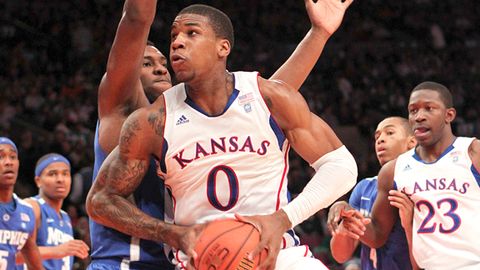 Raptors Republic have decided to pair up the explosive Robinson with his hometown team. The front court combo of Nene and Robinson will give visitors into the paint a lot of headaches and probably their fair share of bruises.
2011-2012 NCAA Statistics
Many scouts believe Robinson is one of the most NBA-ready players in the draft. What Robinson should provide right away are athleticism, toughness, an NBA-ready body and a motor that won't quit on both ends of the floor. He's been a monster rebounder for KU and is aggressive looking for his shot around the rim.

Robinson surprised scouts this year with his ball handling ability and a solid midrange jump shot. He's not afraid to get the ball at the top of the key and create his shot there. His quickness for a player his size and his explosive leaping ability make him a formidable threat offensively down the road.

Scouts know that Robinson can handle adversity. He lost his grandmother, grandfather and mother in the span of a few weeks during his sophomore year and stoically played through it. That sort of mental toughness will come in handy at the next level.

This season he took a lightly regarded KU team and carried it all the way to the NCAA championship game. That sort of leadership and toughness are coveted at the next level.