Raptors Republic has once again spoken. With the 10th pick in the 2012 Raptors Republic Mock Draft, the New Orleans Hornets select...
KENDALL MARSHALL, PG, NORTH CAROLINA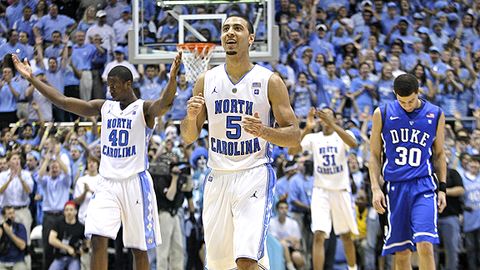 2011-12 NCAA Statistics
No one has helped their draft stock more in March than Marshall. Yes, he broke his hand and was unable to play in the Sweet 16. But Carolina's struggles without Marshall on the floor highlighted how important he was to the team. Marshall is the best passer in college basketball. He's unselfish and makes everyone around him better. The questions for Marshall surround his lack of elite athleticism and his ability to guard the ultra quick point guards at the NBA level. Marshall also needs to improve his jump shot.

Marshall didn't play one minute this weekend and his draft stock still took another major jump. Why? Because without him orchestrating things from the point, North Carolina's other six high school All-Americans struggled to get any semblance of an offense going. Marshall's unselfishness can sometimes get lost when he's on the court. But when you saw players like Barnes and John Henson try to create without him, they looked very ordinary.