With the 11th pick in the 2012 Raptors Republic Mock Draft, the Portland Trail Blazers select...
MEYERS LEONARD, C, ILLINOIS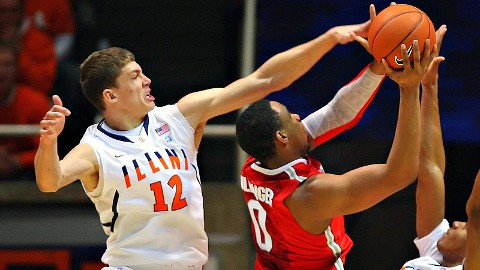 2011-12 NCAA Statistics
Leonard is also a physical specimen. He's huge and a very good athlete for a player his size. He isn't Drummond-level freaky, but he's not far off.

What surprised me was how well he shot from 10-12 feet. He's not going to be, primarily, a face-the-basket big, but he showed over and over in the workout that he can hit that shot consistently.

Usually big men with his size and athletic ability are top-10 picks. I think teams are concerned about his maturity and fear he may be a two- to three-year project. That may be right. But I heard all the same fears about DeAndre Jordan and Joel Przybilla, and Leonard could be a similar type of player at the next level.

Big men rise the closer we get to the draft. Leonard is counting on it. He's got the size, athleticism, rebounding and shot-blocking ability to succeed in the NBA. But he's a project -- he's pretty raw offensively and at times, he loses focus. But as one of the few true 7-footers in the draft, teams will be willing to gamble in the late lottery to mid-first round.