With the 13th pick in the 2012 Raptors Republic Mock Draft, the Phoenix Suns select...
DION WAITERS, SG, SYRACUSE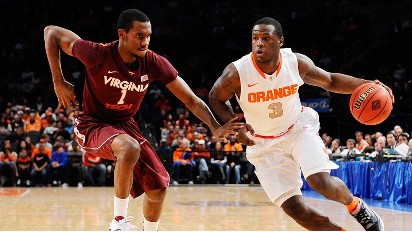 2011-12 NCAA Statistics
MPG: 24.1
PPG: 12.6
RPG: 2.3
APG: 2.5
FG%: 47.6
Positives
•Scoring machine
•Powerful drivers, overpowers the competition
•Relentlessly attacks the rim
•Plays with confidence
•Very good ball handler
•Sneaky athlete
•Has some potential to play point guard
Negatives
•Lacks a consistent jumper
•Undersized for his position
Analysis, as per ESPN Scouts
A number of NBA scouts who I really respect have been telling me for more than a month that the real sleeper in this draft is Syracuse sophomore Dion Waiters. One GM went even further. "There are really only two potential superstars in this draft. One is a sure thing -- freshman Anthony Davis. The other one is Waiters. He can be an electric scorer in the NBA. There's some Dwyane Wade in him."

Comparing anyone to Wade is going too far. Waiters doesn't have Wade's elite leaping ability nor does he have his freakishly long wing span.

Still, very few NBA GMs or scouts doubt his talent, and most of them won't hesitate to compare him to Tyreke Evans. Waiters is one of the draft's best scorers and showed at Syracuse that he can get to the basket at will.

Evans went No. 4 in the draft two years ago and won Rookie of the Year. Wade has won an MVP award. Waiters is projected as a late lottery to mid-first-round pick by most teams.

Why the disparity, given the dearth of guards who can really go out and get their points whenever they need it? The chorus from GMs about Waiters is always the same: Character? Defense? Body language? Coachability?

Waiters has a message for all 30 GMs in the league.

"I'm not a bad kid. And I can play defense," he says with a smile after completing an hour workout with Abunassar.

Waiters obviously has his ear to the ground and bristles at the characterization that he's a troublemaker.

The concerns spawn from an awkward situation last summer when Waiters and head coach Jim Boeheim questioned whether they could coexist anymore.

Waiters came to Syracuse ranked as a top-15 prospect by ESPN and expected to contribute right away. However, he showed up to school in less-than-ideal conditioning. Boeheim became frustrated with his lack of intensity on the defensive end. The media picked up on some poor body language. By the end of the season, Waiters and Boeheim were at odds.

"He had nothing to be frustrated about because he was 100 percent wrong," Boeheim told The New York Times. "He played no defense last year. Not some. None."

Waiters, however, stuck it out. "I called my mom after almost every game crying," he told me on Tuesday. "But she just told me to keep going. To not give up. I'm glad I listened to her. I matured this year."

"I came to Syracuse a boy," Waiters added. "I left as a man."

Waiters came back in the best shape of his career. He embraced his role as the team's sixth man. He showed off point guard skills that scouts didn't know he had. He was Syracuse's best player. Coach Boeheim praised him all year. However, the questions persist.

"A lot of people judge me, but they don't know me," Waiters said. "I'm a good kid. I've never been in trouble. I've never been arrested. I don't hang around bad people. I was immature when I came to school. I was overwhelmed. But I put in the work to get better. Coach and I didn't bump heads all season. I'm very coachable. I just needed a little room to grow."

Waiters grew up in a tough situation in Philly. He left his family at the age of 15 to attend prep school. The move was traumatic for him. In the last year, he told me, he lost three cousins and a best friend. So if he looks too serious, it's because life, both on and off the court, is serious business for him.

Waiters also says that people misread his body language on the court. "You don't see Kobe smiling on the court. When I'm out there, it's all business. I want to win. I want to destroy my opponent. That's my focus. Smiling is for after the game, not during it."

On the court, in Vegas, Waiters is all business. He's in terrific shape, showed off an improved jump shot in workouts and can be explosive with the ball. But the real highlight show began later that afternoon when the five-on-five play began.

Pittsburgh's Ashton Gibbs and Florida State's Michael Snaer both took turns trying to guard him, and they didn't have much luck. On Wednesday, he again dominated in three-on-three play.

Waiters is a solid workout guy. He does enough to impress but not a lot that wows. But when he's actually playing the game, it's all wows.

He carved through the defense to the rim at will. He hit several 3-pointers, fadeaways, spins to the basket. He initiated the offense and got others involved. He got whatever he wanted and ... yes, he played inspired defense on the other end.

"I can't wait for the real workouts to begin," Waiters said. He knows that he's currently in a scrum with Jeremy Lamb, Austin Rivers and Terrence Ross and will likely work out with them directly once the Chicago combine is over. He's got a message for them, too. "I'm going to try to destroy them. I love to compete. If I have a weakness, it's that I'm too competitive. But I think once workouts come, that will be my biggest strength."

Teams still have legitimate on-the-court concerns. He's a bit small for his position. He's struggled with conditioning in the past. He needs to be a consistent shooter and, yes, he still can improve his defense.

But if he works out well and resolves some of the concerns about his personality, there's no reason he couldn't go as high as No. 6 or 8 on draft night. He's that good.