With all the hype around are 3 rookies(JV, TR, and QA) we've forgotten one Tomislav Zubcic. Who I think has very good potential to be a real good role player.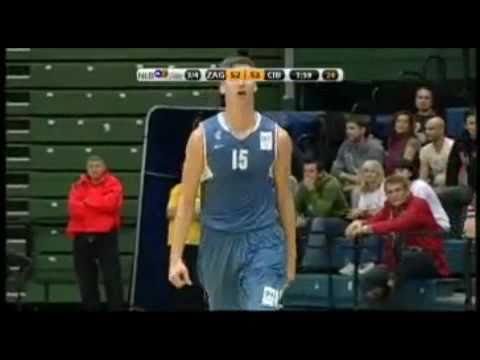 The Good
2009 Nike Hoop Summit
Throughout the week in practice, Tomislav Zubcic displayed extremely impressive tools for a player his size, but at the same time, seemed to struggle with both his role on the team and a lack of mental toughness. To our surprise, he overcame both issues Saturday night on his way to a very impressive showing in the game. The Croatian forward's strong performance certainly helped his draft stock, as he was a big key to the World Team's victory, particularly in the fourth quarter.
With the skills of a small forward, Zubcic has the size and athleticism to become a match-up nightmare at the power forward position. He remains somewhat skinny at this point, but has really improved his upper-body strength over the past year. He looked to be a soft player in the practices, but had no trouble fighting for an offensive rebound on his first possession in the game, and taking a hard hit to get to the free throw line. Zubcic followed this up by create a nice look for Kevin Seraphin after handling the ball on a pick and roll, and came down the court a few possessions later showing off his smooth stroke from the three point line. Later in the game, the forward showed very nice agility and ball-handling skills attacking the basket off the dribble, especially late in the game where he finished a drive while taking a hard hit on the head from Renardo Sidney.
From DraftExpress.com
http://www.draftexpress.com#ixzz24PueM3Ec
http://www.draftexpress.com
The Bad
2009 Nike Hoop Summit
On the glass, Zubcic lacks great fundamentals and must become better at using his body to create position. His defense must improve as well, though he does show good anticipation off the ball, and had a couple of impressive blocks during the game. If he continues to get stronger in his lower body, the Croatian big has a chance to become an asset on the defensive end of the floor.
Surprisingly, a number of scouts we talked to indicated that Zubcic has somewhat of a selfish reputation overseas, and might not play as effectively if he doesn't get an adequate number of touches on offense. We definitely saw signs of this during the practices, and Coach Beveridge got on his case about it early in the week. It worked out for the best, however, because it allowed Zubcic to find his role on the team, and he became a key cog for the first international victory since 1998.
From DraftExpress.com
http://www.draftexpress.com#ixzz24PwZsn3n
http://www.draftexpress.com
2011 EuroCamp
On the other hand, Zubcic has been a distinct underachiever throughout his career, easily rattled and dropping his head at the first sign of adversity. His physical and mental toughness leave a lot to be desired, and that reflects not only in the inconsistency he shows from game to game and even quarter to quarter, but also in his defense and rebounding ability, which are well below average for a player his size. The fact that his wingspan is shorter than his height surely doesn't help matters here.
From DraftExpress.com
http://www.draftexpress.com#ixzz24PwyIoQe
http://www.draftexpress.com